General Information about Cancun
If you are traveling to Cancun, you may find useful some of the General Information. For example, check-ins, seasons to travel, hurricane season, places to visit in Cancun, how to move around the city, and consulates of the USA, Canada, and the UK.
Check-in and seasons to travel
Most of the travelers who are visiting Cancun have a room reserved for their stay. However, it is relevant to mention some aspects we tend to forget.
Some of the hotels in Cancun and Riviera Maya accept check-ins at any time, but your room might be ready until 3 pm. Depending on the season, you may get it sooner or later.
For example, if you are traveling from the second week of December until April, and from June to July is considered the high season. From August until the first week of December, we see a low season.
Now, from my experience working in most of the hotels in Cancun Hotel zone is:
Visitors who arrive earlier than 3 pm and want their room to be ready before sometimes, they may experience uncomfortable feelings
We recommend the following actions:
Check availability and occupation. In that case, you can purchase your flight tickets according to the checking time.
Always talk to the staff kindly and show sympathy, and you may end up getting a free upgrade.
Ask receptionists for a secure place to put your belongings away and take with you your swimming suits and personal belongings (passports, cell phones, wallets or purses) and enjoy your vacation immediately if your room is not available.
You can ask Bellboys to tag your luggage and deliver it to your future room. So, you don't have to be waiting in the lobby until 3 and be missing a sunny day.
It is likely to receive your room earlier in low season, but in high season your room probably can be until 3 pm or even later.
As mentioned above, considering high and low season may help you save time. During low season you may encounter fewer people which means more space in the hotels, low fares on airline tickets, hotel staying promos, express check-ins, free upgrades in categories when we talk about the room you previously reserved, more or extraordinary attention to detail from the hotel staff.
Hurricane Season
Hurricane season is from June 1st to November 30th but, we see tropical storms only. The weather in Cancun is unpredictable and always changing so that we can see the sun in the morning and scattered showers in the afternoon or vice versa. Just enjoy the fact that you are here, and everything will change for you.
Traveling in high season you will enjoy the sunny days in Cancun, but prices tend to be higher. It only depends on how you see the reasons for coming.
All-inclusive
There are quite a few hotels in Cancun and Riviera Maya where you can obtain a European plan which means (no food and drinks included). Select these hotels if you are planning to be for work, short stays, conferences, or special diets.
The all-inclusive term sometimes it is not fully understood. For example, some hotels will require you to make reservations for their restaurants in the different specialties (Asian, Italian, French, and Mexican cuisine). You will need to arrange this with your concierge in advance to guarantee spaces. Otherwise, probably you won't have dinner at your favorite choice.
In a resort awarded 4 to 5 diamonds, you usually don't need to make reservations. Except for the "hibachi table," table where the chef will prepare your food with some skills for which, you will be delighted.
All hotels handle two types of spirits and liquors:
Premium: High-quality bottles served in most of the five diamond hotels. It does not include super expensive brands.
Well drinks: lower price, good quality but common brands.
Always ask your server/bartender if your favorite spirit or liquor is in your package or not. It can help you at the time of check-out and not get surprised by a charge made.
Tipping
It is true that your all-inclusive package comes with gratuities include but there is something you probably need to know.
Gratuities from the all-inclusive are distributed with all employees from the hotel, for that you don't need to worry. If you receive an extraordinary service beyond your expectations, you can give an extra tip to the person who offers you a service.
Most of the staff will go beyond your expectations to make your vacations memorable.
Do I need to exchange my currency to pesos?
You can use American and Canadian dollars, Euros and Pounds in most of the stores in Cancun. Some stores, you need to purchase up to 80% of the value of your bill to get change. American dollars are preferred to use.
At the airport, you will find a lower exchange rate. In Cancun Hotel Zone or Downtown, exist kiosks or businesses where you can change your money to pesos with just showing your identification. The exchange rate may vary when you purchase or exchange money. Keep it simple everywhere cards are accepted. Pay with dollars or in pesos just double check the correct amount. In conclusion, there is no need to exchange all the money, just some.
How to get around Cancun
In Cancun, there are three options:
Private transportation: There is a service you may book for 4, 6, or 8 hours if you want a private ride and have someone to guide you when you ask for recommendations. You can go anywhere and decide what to do. Please see our options for private transportation.
Public transportation: There are 3 busses you may take in the hotel zone each of them run from Westin Regina km 20 hotel zone towards downtown Cancun.
R1 runs from Westin Regina towards downtown Cancun and ending in Puerto Juarez (ferry terminal to cross to Isla Mujeres).
R2 runs from Westin Regina towards downtown Cancun passing to the famous Market 28 and Walmart. Ask the driver to inform you when you are arriving since this bus continues to the north part of Cancun.
R27 runs from Westin same boulevard towards downtown passing through Market 28 and Plaza Las Americas.
Taxi: At your motor lobby, you can easily verify the cost of going from point A to point B.
Recommendations when taking number 2, and 3.
How to take the bus: Please go to the bus stop designed and see the blue sign.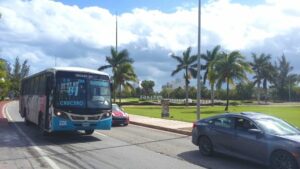 Cost: 12 Pesos or 1 USD each time you ride the bus and not for the distance. There is no daily passes or transfer tickets. The ticket you will receive from the bus driver is just a receipt. The payment is in cash, and the driver will take it from your hands.
Press the button "stop" to request a stop. It seems obvious, but there are places where you need to ask the driver for the stop. In any situation, you should use the latter case if the former doesn't work.
Make sure you speak slowly and clear to be understood unless you want to receive always yes as an answer.
If taking a cab: make sure you know in advance your flat rate and keep in consideration that you might be charged additionally for waiting time. Also, if you pay in pesos, you will pay almost half since taxi drivers don't take your currency according to the bank.
Option 1 can be an alternative if you prefer or is your choice to select the most convenient for you.
Places where you can find the perfect souvenir in Cancun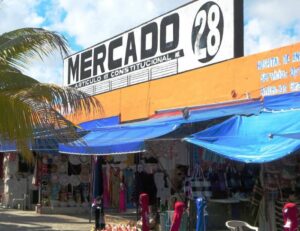 Market 28 /Plaza 28: Located in downtown Cancun. It is an open place where you can walk among the different shops and handicraft markets. Opens from 9 am until 8 pm daily.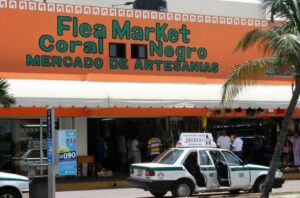 Black Coral Market: Located in the center of the hotel zone km 9.5. it is an open area like option 1. Opens from 8 am until 12.00 am daily.
In any of these places, you will find a piece of Cancun that you can take back home.
Recommendations: It is always preferred to bring some cash with you and bring enough change. Since you try to pay with a card, there is a charge of a 3 to 5 % more on top of the final sale.
General Recommendations when you arrive in Cancun Airport
When arriving at the airport, you will pass through customs and will receive a small paper that you need to present when you are returning. Keep it with your passport since there is a small charge of $27usd for a replacement that you pay when leaving.
Right after you collect your luggage, you will be passing through some agencies that prospect people offering information and services for the different hotels. If you are not interested in buying a membership or lose your time, say "no thanks."
If you have previously purchased ground transportation with any company, make sure you identify your company with logos and tags. Sometimes, you may find people pretending to be your official agencies saying that you need to pay again, and you will get a refund when you get to your hotel or that you transfer has left without you. See the instructions in your itinerary for details and what to do. The travel agencies have staff monitoring your flight outside the airport 24/7.
On the beach and malls, you will find vendors trying to get your attention with crazy deals that result in a scam or loss of time for which you may search the web for reviews.
Hotel Room Categories
There are times when clients don't take enough time to check policies and terms in the hotels. The hotels have different categories to offer on their websites. For example.
Ocean Front- the ground floor where you open the door from your room and walk into the ocean or swim-out suite.
Ocean View- anywhere in the hotel facing the ocean.
Partly Ocean View- ocean view but only at the distance.
Garden, Lagoon, or Street view- less expensive with no ocean view.
Other categories and room names are presidential suites, private villas, etc. Read carefully the best option for you to avoid confusions.
The word (Requested) is not a guarantee that you will get one or two beds. For friends traveling together and receive a single bed could be awkward, or a newly-weds receiving two. It is recommended you reserve well and receive what you want (this cost is extra but can be convenient).
Airline Tickets
When you purchase airline tickets, you need to take the time to read terms and conditions and do it well. Airlines add:
The airline may not notify you about a change to your flight.
The airline can change your flight without notice.
Check the status of your flight.
You agree with the terms and conditions above mentioned (it is the message in the checkbox before you continue with the purchase).
Read carefully when you reserve a tour and know the following.
What's the tour or activity?
Is it suitable for me?
Ages and weight limitations for some people
Do I need some swimming skills (for water activities)?
Is it nearby to my hotel?
Cancelation and refund options?
Terms and conditions.
By knowing this information, we believe you will be making a smart decision and enjoying the most.
In Awesomecancun, we will provide you with all the necessary information for each activity. Also, you can contact us anytime to check on any specific one that you may require additional assistance.
Consular Agency of United States of America in Cancun

Address: Blvd. Kukulcán Km 13, Torre La Europea, Despacho 301 H.Z. Cancun, Quintana Roo, México 77500
Office hours: The U.S. Consular Agency in Cancun is open for business Monday through Friday from 8:30 am to 1:30 pm. An appointment is required for all services such as U.S. passport applications, Notarials, and other requests for in-person meetings. Please make an appointment by calling the office phone during normal office hours. Emergency cases are accepted as walk-ins.
Website:https://mx.usembassy.gov/
Phone: From Mexico (+52) 998 883 0272, from the U.S. (1) 844 528 6611
E-mail: ConAgencyCancun@state.gov
In the case of a life or death emergency involving a U.S. citizen occurring after closing, please call the Merida switchboard number to be connected to the duty officer. Phone: (+52) 999 942 5700.
Consular Agency Cozumel
For routine and emergency consular services, please contact the Consular Agency in Playa del Carmen at Phone from Mexico 999 316 7168, from the U.S. (1) 844 528 6611 or E-Mail: ConAgencyPlaya@state.gov
Consular Agency Playa Del Carmen
(Plaza Progreso, Local 33 Carretera Federal Puerto Juarez-Chetumal, Mz. 293 Lt. 1. Playa del Carmen, Quintana Roo C.P. 77710).
Office hours: The U.S. Consular Agency in Playa del Carmen is open for business Monday through Friday, from 9:00 am to 1:00 pm. Please make an appointment by calling the office phone during normal office hours.
E-mail: ConAgencyPlaya@state.gov containing information about the service you require, your contact information and a preferred time for your appointment within normal office hours. Emergency cases are accepted as walk-ins.
Phone from Mexico 999 316 7168, from the U.S. (1) 844 528 6611
In the case of a life or death emergency involving a U.S. citizen occurring outside of normal business hours, please call the Merida switchboard number to be connected to the duty officer.
Consulate of Canada in Cancun
Address: Consular Agency of Canada in Cancun, México – Centro Empresarial Oficina E7 – Boulevard Kukulcán Km 12 – Zona Hotelera – 77599 Cancun, Quintana Roo – México
Telephone: (+52) 998 883 3360
Fax: (+52) 998 883 3232
E-mail: cncun@international.gc.ca
Website: https://canadainternational.gc.ca/mexico-mexique
Consul: Alice Bourgeouis-Charbonneau – Consular Agent
Office Hours: Monday-Friday: 09.00-13.00
Consulate Appointments: For an appointment at the Canadian consulate in Mexico, please check in first instance the consulate.
In the case that you are not able to arrange an appointment through the website you can contact the consulate in Cancun by telephone (+52) 998 883 3360
E-mail: cncun@international.gc.ca
Visa and Passports
The consulate of Canada in Cancun can inform you about the scope of services they offer.
Always contact the Canadian consulate before a visit since not every consulate in Mexico offers visa and/or passport services.
Travel Insurance for Mexico
Valid travel insurance is very important when you visit Mexico. Check for details on our Travel page
Please note: Consulate opening hours can vary. Always contact the Consulate before a visit.
British Consulate General in Cancun
The British Consulate Provides services to British nationals living in and visiting Yucatan and Quintana Roo States.
Address: Torre Europea Office 202 Blvd. Kukulcán KM 12.5 Cancun Hotel Zone 77500 Cancun-
Quintana Roo, México
Telephone: 24-hour helpline number 0052-551670 3200
Website: https://www.gov.uk/world/organisations/british-consulate-general-cancun
Hours: Open to the public from 8:00 am until 1:00 pm
If you are looking for an affordable place to stay I highly recommend visiting the following link: Affordable Place to Stay in Cancun Downtown